The course "PREPARE YOUR PROCESSES FOR RPA" is designed to teach participants what processes are suitable for RPA, which are not, and how to start working with them, so the ideas become more than ideas on paper.
After the course, the participants can independently and confidently work with RPA themselves.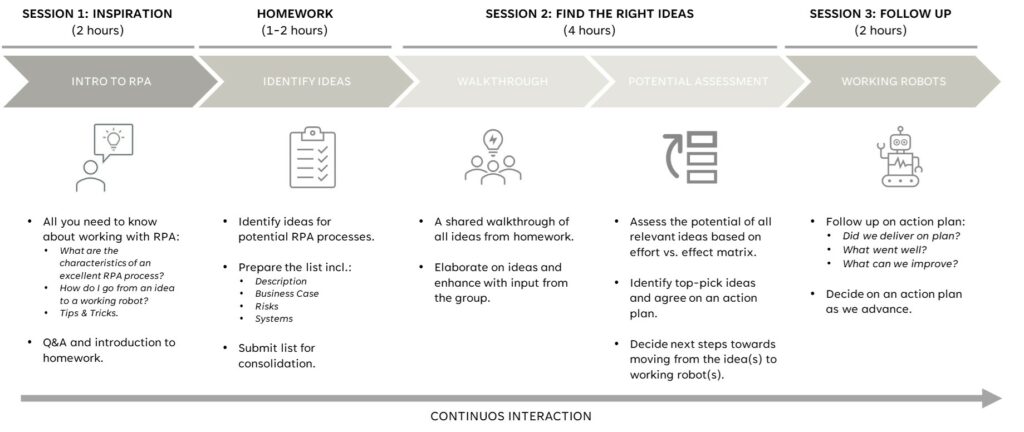 The course consists of the following:
Session 1: INSPIRATION (2 hours): We go through all the fundamentals of RPA and introduce you to the homework assignment. The session will combine presentation and active interaction between the instructor and participants.
HOMEWORK: Participants are expected to use 1-2 hours of preparation between sessions 1 and 2. The homework consists of submitting a list of identified and described ideas for potential RPA processes.
SESSION 2: FIND THE RIGHT IDEAS (4 hours): This session will focus on going through all the ideas submitted during the homework. We will elaborate on the ideas and enhance them with input from the group. Finally, we will prepare a list of prioritized ideas and decide on the next steps to go from idea(s) to working robot(s).
SESSION 3: FOLLOW-UP (2 HOURS): Concluding the course is a follow-up session where participants present their work since session 2. Based on that, an action plan for the further adoption of RPA is suggested.
We recommend that the sessions take place over 3-6 weeks, ideally not too far apart, to ensure that participants can keep focusing on their learnings.
Stine will teach the course. Stine is allergic to unnecessary processes and loves to "Take the robot out of the human." Since 2016 she has successfully implemented RPA in more than 50 public and private companies. When implementing RPA, Stine focuses on building bridges between business needs and technological opportunities. Setting things up so they work in everyday operations, not just in PowerPoint, is her strong force.
To ensure sufficient time for Q&A and interaction between participants and instructor, we recommend a maximum of 15-20 participants in the course.
All materials will be digitally available on 

www.andersjensen.org.

 

The participants get access to a unique password-protected site before, during, and after the training.

The site will provide opportunities for help, links to additional learning resources, and much more.

After completing the course, participants will still have access to the site and materials. Likewise, participants will automatically get access to updated materials over time from the site.
The course price is €2700 (+ VAT if applicable).
If the course is conducted physically, facilities and catering are at your cost.
Transportation is included in the prices in the Greater Copenhagen area. Costs of transportation elsewhere are agreed upon on a case-by-case basis.
All additional costs, e.g., preparation, planning, coordination, etc., are included in the prices.
In addition, our standard, straightforward terms of business apply:

We do business based on mutual trust.
All our services are pre-paid and non-refundable.
Project planning, content creation, and the overall collaboration start once the agreed payment is received.