UiPath has upgraded their software from UiPath Studio to UiPath Studio Pro, which include AI, advanced RPA features and testing tools (Test Automation). To upgrade an existing Uipath Studio license is easy with this guide.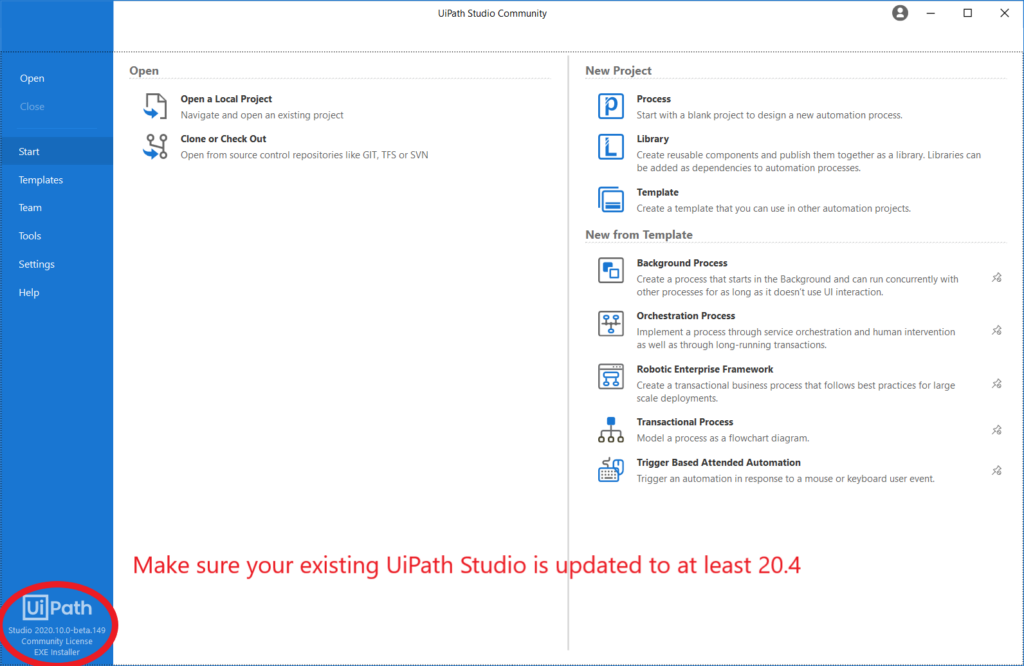 1. Make sure your UiPath Studio is updated to at least 20.4
Check what version of UiPath you are running by reading it in the lower left corner of the UiPath application. If it is 20.4 or higher, jump directly to step 2. Otherwise you need to update it given the instructions in step 1.1.
1.1 Update UiPath Studio to the newest version
If you have a UiPath Studio version lower than 20.4, you need to upgrade, before you can proceed to step 2. Navigate to https://platform.uipath.com and login with your created Orchestrator credentials. In the upper right corner click 'Download Studio/StudioX' and follow the instructions to install.
2 Allocate UiPath Studio Pro License
If you are not logged into Orchestrator, do so by going to https://platform.uipath.com and use your created Orchestrator credentials to login. Click the 'Admin' in the menu to the left. Click the three dots in your Tenant (see Fig. 2). Chose 'Edit Services'. In the lower right corner click the blue button 'Edit Licenses'. Allocate a Studio Pro license in the field. Click 'Save'.
3 Change the robot type from Studio to Studio Pro
Navigate to https://platform.uipath.com and under 'Orchestrator Services' chose your tenant (the name is probably something with Default in the end). In Orchestrator move to 'Robots' and click the three dots in the right (see Fig. 3). Then click 'Edit'. Under the 'Type' dropdown change from 'Studio' to 'Studio Pro'. Click 'Update'.
4 Restart UiPath Studio and Assistant
Close UiPath Studio and UiPath Assistant (found in the tray). Open both of them again.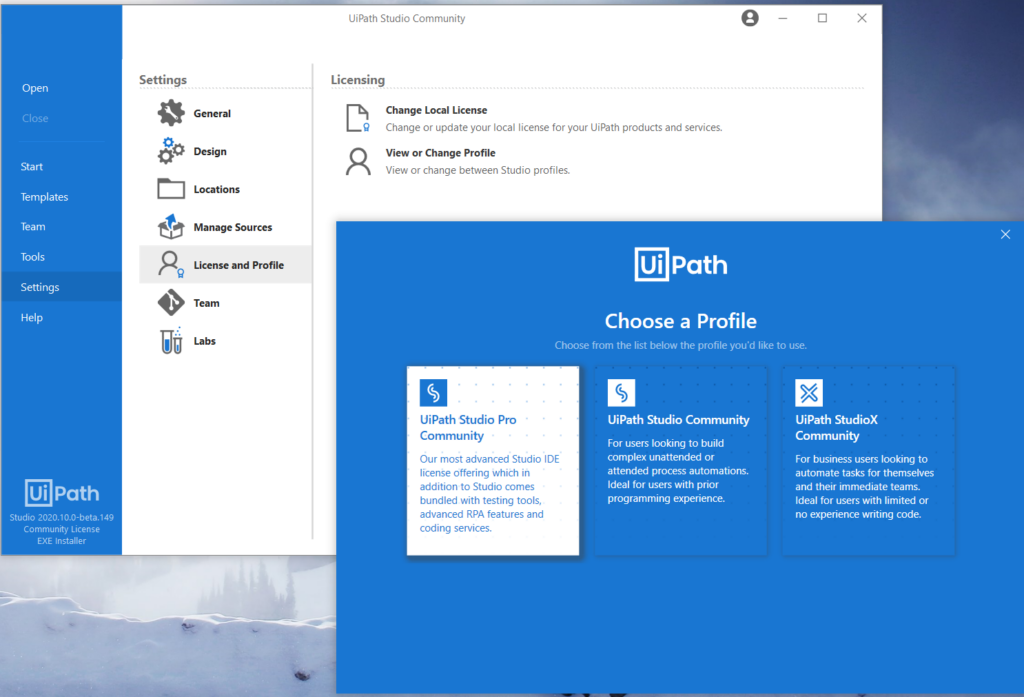 5 Change Profile in UiPath Studio
After having restarted UiPath click 'Settings' – 'License and Profile' and then 'View or Change Profile' (see Fig. 4). Uipath studio will restart again and when back, you have UiPath Studio Pro.
If you have any comments or questions to this guide, feel free to leave a comment and I will answer as best as I can 😊.
Do you want a complete UiPath Beginners Tutorial, where you will learn all the best UiPath RPA best practices? Then check the +2 hour course below. If you have any questions, please leave a comment. I try to answer all comments.